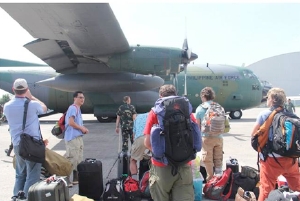 PRESS RELEASE
Mammoth Medical Missions Among First to Arrive in Tacloban City to
Provide Much-Needed Aid After Typhoon Haiyan Devastates the Philippines
Non-Profit Seeking Donations to Cover Emergency Medical Response in Wake of Disaster
Mammoth Lakes, Calif. – November 10, 2013 – A team of 16 surgeons, doctors and medical support volunteers from Mammoth Medical Missions, a non-profit, healthcare organization that donates services to underserved rural communities worldwide, is among the first to bring aid to Tacloban City following Typhoon Haiyan. Members of the Mammoth Lakes-based team were diverted to the Philippines on Friday from a previously planned medical mission to Chipas, Mexico, enabling them to be among the first groups to provide medical assistance in the coastal capital, where the death toll is expected to reach 10,000 people.
After consulting with the Philippine Embassy, the Philippine Red Cross and Team Rubicon, a Los Angeles-based disaster response service organization, the emergency medical responders from Mammoth Medical Missions will be providing crucial triage and life-saving surgery services throughout the city of 220,000 residents. As reported today in Manila Standard Today, Elmer Cato of the Philippine Embassy in Washington said a medical team from Mammoth Medical Missions in California was on its way to Tacloban City.
The team arrived at Villamor Air Base in Manila, where they were attached to the 505th air wing of Philippine Air Force for security, and will likely set up operations in east Samar, which is the hardest hit area of the city. The group is equipped with three surgical teams and more than 30 parcels of medical supplies as well as a self-contained surgical tent. The team also has a satellite phone, so status updates will be made daily.
"There are a few times in life when you make a swift, heartfelt decision because you know it's the right thing to do, even if it means sacrifice, uncertainty and potential danger," says Mike Karch, M.D. and CEO of Mammoth Medical Missions. "When we heard about the magnitude of this storm, we quickly convened our board and decided to change the course of a routine medical mission and respond to this large-scale disaster. I am confident our team has the skills, compassion as well as mental and physical endurance to meet this challenge and save lives."
The decision to re-deploy the Mammoth Medical Missions team has come at a large financial cost to the members, who made new travel arrangements and helped secure additional medical supplies. "We quickly moved from needing to support a routine medical mission to being a first responder in a massive disaster relief effort," adds Gilanne Bourne, treasurer of Mammoth Medical Missions. "Obviously, we weren't able to conduct any fundraising to secure donations or in-kind gifts in advance of this emergency mission, so we are grateful for any support from the community and well-wishers everywhere to help us aid the people of the Philippines."
Donations can be made directly at www.mammothmedicalmissions.org/donate.
About Mammoth Medical Missions (MMM): Mammoth Medical Missions is a secular, nonprofit, non-governmental volunteer organization based in Mammoth Lakes, California, which provides medical, surgical, dental, and general health-care services to underserved rural and mountain communities worldwide, as well as emergency medical response and field triage in case of large-scale disaster and/or mass casualty. For more about Mammoth Medical Missions, visit www.mammothmedicalmissions.org. Mission updates can be found on our Facebook page.