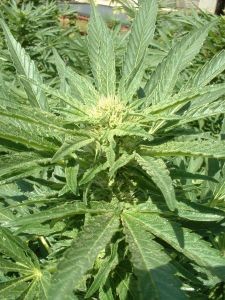 In 2010, the Mammoth Lakes Planning Commission reasoned that a medical marijuana nursery would operate under the same regulations as any nursery. As one planner said, "Just like anyone selling poinsettias or ferns." A few years later, however, things may have changed. Medical marijuana issues have gone to court and activities are heavily regulated. The Mammoth Planning Commission expected to talk about medical marijuana nurseries at their meeting today.
Mammoth Lakes Wellness has proposed to open a nursery in connection with their medical marijuana dispensary. That move prompted staff to examine where and how marijuana plant businesses should locate. The Planning and Economic Development Commission agenda says officials will discuss whether medical marijuana grows are an appropriate use within the Commercial Zoning designations. A Town ordinance lays out where medical marijuana dispensaries can locate – either in industrial or commercial zones.
Associate Planner Jen Daugherty said that the staff has recommended that the medical marijuana nurseries be physically and legally connected to a dispensary and located adjacent to a co-op. This recommendation says the operator of a marijuana nursery should be the same as the operator of a dispensary.
Asked why the staff has made this recommendation, Daugherty said for security reasons and other considerations. She said if the nursery were owned and operated by a separate entity, this would bring in another level of scrutiny. Daugherty said the Commission will discuss the possibilities.
Meanwhile, the Planning Commission did grant a medical marijuana dispensary permit to Don Wright, Jr. of Mammoth Lakes who is reportedly in the process of re-opening the former Mammoth Green dispensary, originally owned and operated by Steve Klassen of Mammoth.