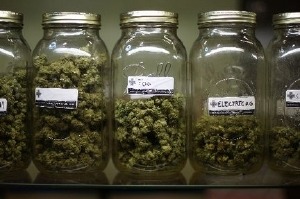 The Mammoth Planning and Economic Development Commission recently approved new guidelines for those who want to grow medical marijuana. The Commission supported the recommendation of their staff.
Associate Planner Jen Daugherty said that the Commission supported the policy that growers of medical marijuana must be physically and legally connected to an existing medical marijuana dispensary. The nursery would have to be located adjacent to the dispensary and be operated by the same person or company.
After Mammoth Lakes voters approved a medical marijuana ordinance and rules for the establishment of two dispensaries in Town, the then Planning Commission reasoned that a medical marijuana nursery could operate under the same regulations as any plant nursery.
With the intensified legal battles over medical marijuana dispensaries and ongoing court battles, regulations have tightened. Daugherty had earlier said if medical marijuana growers were allowed to be someone different from co-op operators, this would bring in a new level of bureaucratic scrutiny.
Mammoth Lakes Wellness has proposed to open a nursery in connection with its dispensary in Town. This proposal prompted the planning staff to examine the issue of nurseries.
As we had reported, in a related development, Don Wright, Jr. of Mammoth Lakes was granted the second permit for a medical marijuana dispensary and is in the process of re-opening the earlier co-op called Green Mammoth.