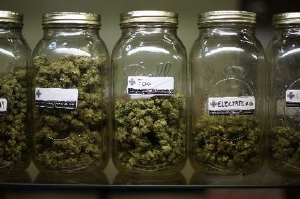 All over California law enforcement and citizens now clash over the legal details and guidelines for the dispensing of medical marijuana. Proposition 215 spells out the legalization of marijuana as medicine, but district attorneys statewide have questions. So does Mono County law enforcement, and one medical marijuana co-op owner believes he's under attack.
Steve Klassen, owner of Green Mammoth dispensary, said he thinks it's important to let the public know what's going on. He said he has "heard through the grapevine that Mono District Attorney George Booth is trying to shut us down." Klassen said DA's all over California are re-interpreting the Attorney General's guidelines on medical marijuana to try to make it illegal. Tony Barrett, who works with Klassen, said he has heard that Mono narcotics agents are "champing at the bit to shut us down via the District Attorney's office."
I spoke with Mono District Attorney George Booth who did not want to directly comment to Green Mammoth's allegations, but DA Booth did say that "In the next two weeks, we will put out our written position on these (medical marijuana) stores."
Booth is not alone in his investigation of the law and official guidelines. District attorneys and city attorneys all over the state have launched into legal examinations of Proposition 215 in the face of hundreds of medical marijuana dispensaries cropping up in cities around California.
In Mammoth Lakes, the voters approved Measure M which set out the rules for operating dispensaries in Town. That fact does not give comfort to Klassen who said flatly that he thinks the Mono DA is "trying to put us out of business like the Los Angeles district attorney." Klassen points to the law which discusses reimbursement for medical marijuana. He says that patients reimburse him for time and effort in exchange for the medical marijuana. Klassen maintains his above-board status, but fears law enforcement will try to raid him on the assumption that no acquisition of medical marijuana is legal.
The official Attorney General's guidelines do say that medical marijuana may be allocated "based on fees that are reasonably calculated to cover overhead costs and operating expenses."
Klassen sees a chain of influence that starts from the California Narcotic Officers Association on down to local law enforcement. Klassen believes there's money in drug enforcement, and he says it's getting in between patients and their medicine.