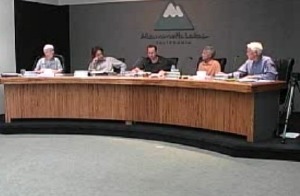 Lawyers and officials for both the Town of Mammoth Lakes and Mammoth Lakes Land Acquisition have spent at least three days in mediation sessions before Bankruptcy Judge Elizabeth Perris. As Mammoth's Assistant Town Manager said, if the two sides didn't have a lot to discuss the mediations would have ended after the first day. They are now set to continue on Monday.
While lawyers and officials mediate on settlement of the $43 million lawsuit debt that Mammoth owes MLLA, the Mammoth Town Council had met daily to consider matters unfolding in the mediation talks. Details remain confidential. Asked to comment on mediation matters, Assistant Town Manager Marianna Marysheva-Martinez said only that mediation will continue on Monday. When contacted for his view of the talks, MLLA lawyer Dan Brockett said, "No comment at this time."
When the Town of Mammoth went to Bankruptcy Court for Chapter 9 protection, MLLA attorneys made strong statements that they would fight Mammoth on this. They complained that the Town never responded to their last offer. Mammoth complained that MLLA refused to mediate.
Then Bankruptcy Judge Thomas Holman ordered the two sides to sit down and talk with a judge-mediator.