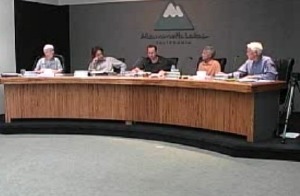 Court-ordered mediation sessions will take place in the Los Angeles area Monday and Tuesday between lawyers who represent the Town of Mammoth Lakes and Mammoth Lakes Land Acquisition. In Mammoth, the Town Council will hold two special meetings on the days of the mediation sessions.
Last month, the Town of Mammoth filed for bankruptcy, pointing to the $43 million lawsuit judgment debt owed to MLLA.  Instead of moving immediately to a bankruptcy eligibility hearing, Bankruptcy Judge Thomas Holman appointed another bankruptcy judge to serve as mediator between Mammoth and MLLA.  Judge Elizabeth Perris will sit down with the two sides to search for settlement possibilities.
MLLA attorney Dan Brockett made it clear that the company would fight Mammoth's bankruptcy and push for payment of their debt. Brockett claims Mammoth has dealt in bad faith and is not insolvent.  Town officials disagree.
Apparently to respond to developments in the mediation sessions, the Town Council will meet at 4pm Monday, August 6 for a closed session on legal matters. They will continue Monday's meeting to another special closed session Tuesday at 6pm.
In papers filed with the Bankruptcy Court, MLLA lawyers claim that in talks with Mammoth they learned that the Town has $5 million in annual, "discretionary" money.  MLLA had made an offer that the Town pay roughly $2.5 million a year for 30 years to satisfy the debt.  They claim the Town never responded.