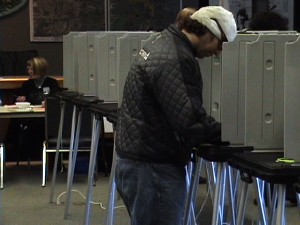 Mammoth School's special tax, Measure S, passed with a 73.76% vote.  The Mono County Elections Department wrapped up the vote count Tuesday night just before 10:30 pm.
Election officials said school district voters cast 1,178 votes in favor of Measure S and 419 votes against.  A two-thirds vote was required.  Voter turn-out at the polls was low – around 18%, with 26% who mailed in ballots.
Measure S extends an already existing $59 per year parcel tax for school district homeowners.  School officials asked for the measure in the face of doubts about state and federal government support of local education.
The ballot measure said that the tax would preserve smaller classes, attract and retain excellent teachers, strengthen core curriculum and more.  The passage of Measure S extended the $59 annual education parcel tax for another five years with an exemption for senior citizens' primary residences.  An independent citizens' oversight committee will watch how the tax money is spent.
The tax funds will go into a special account with an annual report.