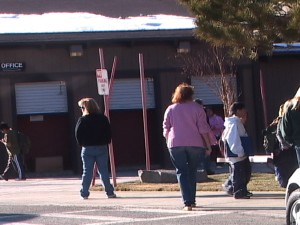 Doubts of state and federal government support of local education prompted Mammoth Unified School District officials to extend an already existing  special tax, Measure S, that would cost most District homeowners $59 per year.  School officials say this money would enhance math and science classes, provide students with books and supplies, attract and retain qualified, high-performing teachers, provide updated technology and keep class sizes small for early grades, among other things.  Measure S goes to the ballot Tuesday.
Much earlier, Mammoth school officials determined that the parcel tax measure is still needed to achieve quality schools and academic excellence, as they put it.  In a resolution of support of Measure S, officials said that a 2/3 vote of the electorate would allow the District to continue to apply a special tax on property.
Officials made note that funding from the state and federal governments has been inadequate and uncertain to meet education objectives.  Plus, there is no assurance that future state and federal funding will reach goals.  Officials also noted that they have made every effort to reduce expenditures that still protect academic programs.
The ballot measure before voters Tuesday says: "To protect our local schools from ongoing state budget cuts and to maintain high quality academic programs by preserving smaller classes, attracting and retaining excellent teachers, strengthening core curriculum and enhancing technology, art, music and athletics, shall Mammoth Unified School District extend the current $59 annual education parcel tax for five years with an exemption for senior citizens' primary residences, overseen by an independent citizen's oversight committee, and every dollar spent on Mammoth Schools?"
A Yes vote means you want to enact this special tax.  A No vote means you do not want the tax.
The County Counsel's impartial analysis calls for accountability measures: a statement of specific purposes for the tax, a requirement that the proceeds are applied only to specific purposes identified in the statement, the creation of an account into which the proceeds will go, and preparation of an annual report. Voters in the District from Long Valley and Mammoth Lakes will cast their votes Tuesday.