(The following is a press release from the Inyo National Forest)
Last November 30 a ferocious wind toppled thousands of trees in the Middle Fork San Joaquin River watershed of the Inyo National Forest. The tangle of downed trees looks like a giant's game of pick-up sticks. The forest damage occurs in patches, from Island Pass all the way down to Fish Creek, and throughout the Reds Meadow valley.
In Reds Meadow valley hundreds of trees are down in campgrounds, picnic areas, trailheads, and access trails. Extensive clean-up work is needed to remove downed trees and to repair the roads, trails, utility lines, restroom buildings, picnic tables, and food storage lockers damaged by fallen trees. "This is uncharted territory to deal with damage of this magnitude," observed Deanna Dulen, Superintendent at Devils Postpile National Monument.
What caused all of this damage? Did the jet stream touch down? No one knows with certainty, but scientists and researchers are very interested in the study of this wind storm.
Perhaps more importantly, many who live here and visit this area are interested in enjoying camping, fishing, hiking, and horseback riding in Reds Meadow and Devils Postpile,  just as they have every summer for many years.  The question on everyone's mind seems to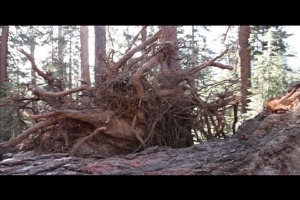 be how will this damage affect recreational opportunities for the coming summer season?
"Our goal is to open as many of the Reds Meadow valley recreation sites and trails to the public as soon as is feasible and safe," stated Jon Regelbrugge, Mammoth District Ranger.  Inyo National Forest and Devils Postpile National Monument staffs have been working on an inventory of damages, and a strategic plan to complete clean-up and repair work. The strategic plan will identify steps to complete work as quickly as possible, in a manner that will have the least impact on public use this summer.
By taking advantage of the lack of snow, some clean-up work was accomplished in December and January. The Inyo National Forest, Devils Postpile National Monument and Mammoth Mountain Ski Area partnered in this effort. The downed trees have been removed from Reds Meadow Road, Reds Meadow Campground, Rainbow Falls trailhead, and the Ranger Station area and Postpile trail.
The remainder of clean-up and repairs will commence as soon as snow melts and the area can be accessed for work. Recreation sites and trails in the southern portion of Reds Meadow valley will most likely open to the public first, because this is where the snow usually melts the earliest. Campgrounds and overnight facilities expected to be open first include Reds Meadow Campground and Reds Meadow Resort. The trails to open first are expected to include Rainbow Falls, Devils Postpile and Fish Creek trails. The earliest day use sites expected to open would be Sotcher and Starkweather Lakes, and the Ranger Station and picnic areas at Devils Postpile. We expect that the public will be able to use these areas while work is being conducted to open other recreation sites.
Two important variables in regards to the clean-up efforts and damage repair are the weather and funding for the work that needs to be done.  The timing of winter storms and snowmelt will dictate when clean-up work can be completed. The extent of the storms and the timing of the snowmelt can't be predicted, which means that an exact date for opening Reds Meadow valley is not known.  Both the Forest Service and the Park Service have applied for special funding for clean-up efforts, and are waiting to hear if those funds will be awarded.  The Inyo National Forest and Devils Postpile National Monument will continue to share updated information about summer recreation in Reds Meadow valley as clean-up work continues.  For updates regarding the damage and clean-up efforts please go to the Inyo National Forest website at www.fs.usda.gov/inyo.