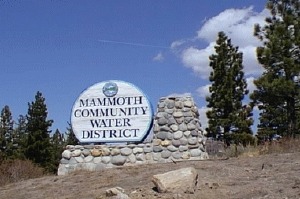 Officials from Mammoth Community Water District and the Los Angeles Department of Water and Power sat down in a private negotiation session last Friday in Sacramento. The issue – LADWP's lawsuits that attack Mammoth's water rights. The two sides are still operating under a confidentiality agreement and declined comment. Water District Attorney Steve Kronick said only that the two sides "exchanged information."
At the end of last year, it looked like settlement was imminent. Even the Los Angeles Times reported on a Mammoth- LA agreement in an article about water war truces. Then, something happened. Neither side will say what. Speculation points to a possible last minute curve.
The February LA Times story said DWP was weighing a compromise with Mammoth's Water District. The story said the two sides were "weighing a compromise that said in return for less than $5 million, Los Angeles would drop its lawsuit and both sides would agree to never challenge each other's water rights."
The LA Times story also reported that DWP would use the money from the Water District for "water saving improvements designed to increase the flow of water in the aqueduct." The article said that the Water District has spent about $600,000 in legal expenses defending its own water licenses and permits granted by the State some sixty years ago. LADWP said the water rights Mammoth claimed really belong to Los Angeles.
Though settlement was expected at the end of January, it never happened. Instead, Judge James Garbolino set a date, April 15th, for opening briefs in a trial. The trial date is September 6th.