Mammoth Community Water District Requests Reopening the Environmental Review of Ormat's Casa Diablo IV
Geothermal Expansion Project
New Evidence Runs Contrary to Assumptions,
Conclusions of Project's Final EIR
News release
Mammoth Lakes, CA – The Mammoth Community Water District (MCWD)formally asked the Great Basin Unified Air Pollution Control District (Great Basin) to re-evaluate the findings of the Final Environmental Impact Report (EIR) for Ormat Technologies' Casa Diablo IV (CD-IV) geothermal expansion project. The request follows the release of new scientific evidence that directly contradicts the Final EIR's conclusion of no impacts to Mammoth's groundwater basin.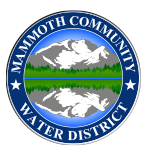 A new analysis of water quality data collected by the experts at the United States Geological Survey (USGS) and analyzed by Wildermuth Environmental, provides conclusive evidence that geothermal fluids are present in Mammoth's groundwater basin – the community's main and most reliable public water supply. This data was unavailable at the time Great Basin certified the Final EIR on July 17, 2014.
"This new data is our warning – our regulators have an opportunity to act now to prevent Ormat's planned geothermal expansion project from causing a public health crisis in our community," said MCWD General Manager Pat Hayes. "Our regulators are responsible for reevaluating and amending regulations as new scientific data is made available – this is the request that we make of Great Basin today: review the evidence and mitigate the threat to Mammoth's drinking water where feasible."
The alarming new information disproves the fundamental assumption used as the basis for the Final EIR that the "Mammoth Groundwater Basin is physically isolated from the deeper geothermal system," and as a result, "the CD-IV Project would be unlikely to affect the availability or quality of shallow groundwater resources in the Project vicinity." (FEIS/FEIR, p. 4.7-12.)
The new data makes clear that Ormat's CD-IV Project could pose a significant negative impact to Mammoth's drinking water, and Great Basin must ensure that those impacts are thoroughly evaluated, disclosed and mitigated where feasible.
###
For more information, please visit our website at www.mcwd.dst.ca.us/ormat.htmlor follow the Mammoth Deserves Safe Water Campaign on twitter@Ormat_WhyRiskIt.