A major push to replace 13,000 feet of old water line goes on in Mammoth Lakes. Years ago, water officials decided this was a good way to save water since the old steel lines have lots of leaks.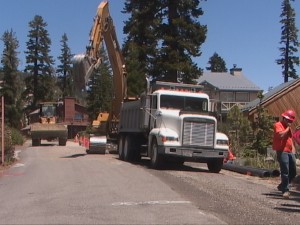 Right now, water district crews are at work to replace water line and laterals on Aspen Lane in Mammoth, starting at the cul-de-sac and working towards Lakeview Blvd., where they will connect to the existing line. Residents on Aspen Lane are currently connected to temporary water lines.
Crews will try to wrap up this work by the second of July and then move on to Mammoth Slopes Drive. Residents there have also been connected to temporary lines in preparation for replacement of the water line.
The work will continue throughout the summer. The water district says by October, crews should have replaced over 13,000 feet of old, steel lines.