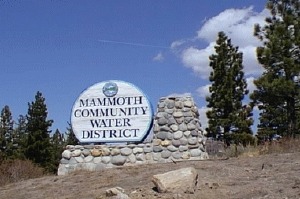 MCWD Construction Schedule 2013
The Mammoth Community Water District (MCWD) takes pride in providing quality water and sewer services to the community of Mammoth Lakes. This construction season, the MCWD will be making water and sewer distribution improvements throughout the town of Mammoth Lakes.
Construction will begin May 6th and continue through May 22nd in the Starwood and Snowcreek Crest neighborhoods. The project will redirect pipelines to increase water pressure supplied to these neighborhoods. If you own a home in one of these neighborhoods it is important to check that you have a properly set and functioning pressure reducing valve. The pressure increase could damage household appliances and fixtures that use water.
Construction crews will then move to Sierra Park Road where they will be adding a new main water line to increase water reliability. Sierra Park Road will be limited to one lane from May 23rd through June 10th. The construction crew will then move to Canyon Blvd where traffic will be limited to one lane between Twin Lakes Lane and Forest Trail between June 11th and June 29th. MCWD will be adding a new sewer line to increase sewer flow reliability.
Starting around July 16th through October, the MCWD will be replacing water laterals servicing homes around Mammoth Lakes. The identified laterals to be replaced are old and corroded. This project will increase water quality and reduce system water losses. Crews will start replacing laterals on Grindelwald Road from Megeve Way to Forest Trail. Construction will then move to Holiday Way. The construction crews will finish in the Majestic Pines neighborhoods.
District crews will be working between the hours of 7:00am – 5:00pm. Please drive carefully, be alert in construction areas and use alternative routes when possible to keep our crews safe. Visit our website at www.mcwd.dst.ca.us or like our Facebook page to follow the progress of our summer crews. These construction projects improve the reliability of the water and wastewater systems, improves fire safety and reduces water loss in the Town of Mammoth Lakes. If you have any questions or comments contact Betty Hylton at 760-934-2596 ext. 274.