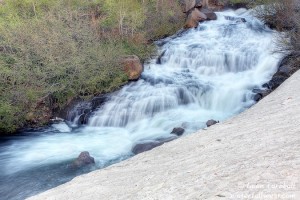 Last November, Mammoth Community Water District officials said the District and the Los Angeles Department of Water and Power had made "substantial progress toward an agreement" over a Mammoth Creek water rights dispute. Even the Los Angeles Times reported that settlement appeared imminent. Then, for an undisclosed reason, it all fell through and both sides prepared to go to trial in September. Now, the two adversaries will sit down for a negotiation session in Sacramento on Friday.
The last negotiation meeting was November 19th in Los Angeles. Water District attorney Steve Kronick said there had been some communications since then but no agreement. Friday's meeting will take place in LADWP lawyer Stuart Somach's office. Kronick said, "The negotiations are still going on. That's all I can say now." He said there may be more information next week.
LADWP had filed lawsuits more than a year ago to claim that Los Angeles, not Mammmoth Lakes, owns all the rights in Mammoth Creek, which supplies a major part of the community water. Water District officials strongly disagreed and pointed to the licenses and permits issued by the State Water Board to Mammoth sixty years ago.
On that note, DWP lawyers filed a petition for reconsideration of the State Water Board's recent modifications of Mammoth's water rights' licenses and permits. The Water Board had made changes to reflect the required fish habitat flows in Mammoth Creek set down in the approved EIR. Acting General Manager of the Water District, John Pedersen, said that the District has been operating according to the required fish flows for a number of years.