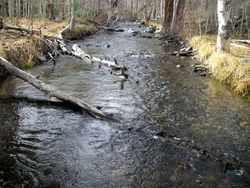 Almost a year ago, the Los Angeles Department of Water and Power filed lawsuits which challenged Mammoth Community Water District's rights to Mammoth Creek water, which is a major part of the town water supply. The suits were connected to the EIR on Mammoth Creek flows and Mammoth's Urban Water Management Plan. DWP said these documents were flawed since Mammoth had no rights to Mammoth Creek. Negotiations over these issues have continued through the year, including a meeting before Thanksgiving.
Mammoth Water District General Manager Greg Norby said that the District and LADWP did meet November 19th at DWP headquarters in Los Angeles for over four hours. Managers, board members and attorneys attended. That was the same day the California Air Resources Board issued a decision against LADWP over its Owens Dry Lake appeal.
Norby said, "The discussions resulted in substantial progress towards a settlement agreement." He said there remain some items to address. Norby told us that "Staff from Mammoth Community Water District and LADWP will be working together in the next week or so to attempt to resolve the remaining items." The nature of the proposed settlement remains confidential. It is known that Judge James Garbolino had ordered that the case go to trial if there is no settlement by the end of January.
Initially, DWP attacked Mammoth for taking water from Los Angeles DWP customers and costing them money. DWP wanted Mammoth to buy the amount of water they take out of Mammoth Creek and give it to LA. That would cost around $2 million per year.
Mammoth Water District officials refused and hired a high-powered public relations firm to counter-attack LA's surprise assertion of water rights. As Mammoth officials said, LADWP had said nothing for 60 years and suddenly wanted to assume Mammoth's rights that were verified by the State Water Board. LA may not get Mammoth's water, but they will apparently get something.