– Press releases from Mammoth Community Water District
The Mammoth Community Water District (MCWD) implemented Level 3 Water Shortage Conditions this year in early April when the runoff year started with just 2 percent of normal conditions.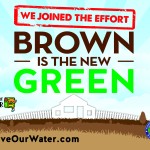 Reducing irrigation demand is critical to ensure we meet our 30% reduction target and have a reliable potable water supply. With irrigation starting up and water resources at critical levels, the MCWD is hoping lawn signs sporting the new conservation message, "Brown is the New Green" will encourage more customers to reduce landscape water use.
The current irrigation schedule of 2 days a week with significantly reduced times, should allow for enough water to keep landscapes alive, but customers should expect to see some signs of stress.
"We'd like our customers to make sure their irrigation systems are running efficiently and find ways to cut back on their irrigation consumption where possible," said Pat Hayes, General Manager at MCWD. Simply turning back the run time for each cycle
will likely do the trick. For example if you are running 10-minute cycles, dial it back to 7 minutes.
Betty Hylton, GIS Specialist with MCWD, added, "If a customer is letting their lawn turn a little brown or die this summer, they can advertise their commitment to conservation with our new signs. We are hoping our customers evaluate whether their lawn is necessary and consider replacing it with plants that don't need spray type sprinklers and use minimal water. These conversions will conserve our water resources every summer, not just during the drought."
The District is stepping up water conservation enforcement. Customer data is reviewed daily and those who are not following the time of day and day of use requirements will be issued violation notices.
After two violations, those not in compliance will be faced with a $50 per day fine and ultimately have water restrictors or shutoff occur.
To encourage and support customers decreasing irrigation during the drought, the MCWD is making a limited number of lawn signs available free to its customers. Ms. Hylton remarked, "the first 'Brown is the New Green' lawn sign will be planted in MCWD's previously green lawn."…
###
Conservation, cooler temperatures and rainfall in May contributed to a significant reduction in water consumption by Mammoth Community Water District (MCWD) customers compared to May 2013.  Unfortunately, not enough rain fell to raise Mammoth Creek flows to levels that would allow MCWD to store water in Lake Mary or to divert water to customers.  As a result, MCWD would like to remind customers that water supplies remain at a critical level as we start the summer irrigation season.
May water demand from MCWD customers this year was 54 percent lower than May 2013, saving 55 million gallons of water.  This reduction exceeds the MCWD's Level 3 reduction goal of 30 percent.  Although this May received an inch more rain than in 2013, the savings is still significant.  General Manager Pat Hayes remarked "Our customers are keenly aware of their environment and are seeing the effects of the drought.  It seems this connection is translating into turning down the spigot."  The year 2013 is being used as the baseline for comparison purposes by the state and MCWD.
The MCWD has been almost entirely dependent on groundwater supplies since last year.  Surface water has been limited or unavailable as Mammoth Creek flows have been too low to divert for drinking water supplies.
These limits to storage and diversions are embedded in MCWD's water right permit and licenses to protect Mammoth Creek resources.  Fortunately, the MCWD can turn to their nine groundwater production wells this summer to supply the community.
MCWD is keeping a close watch on groundwater levels this summer as we transition into the irrigation season.  For MCWD customers, Level 3 Water Shortage Restrictions remain in effect until conditions improve.  All customers are encouraged to visit the MCWD website for a list of the restrictions.