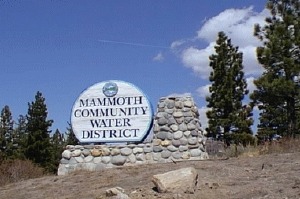 After months of accusations and fears of water contamination, officials from Mammoth Community Water District and Ormat Geothermal have agreed to enter formal negotiations to reach a mutually acceptable monitoring and mitigation program while Ormat's expansion project goes forward.
The bitter dispute between the two entities did not reach agreement over past months. The Water District filed suit against the Air Pollution Control District's approval of Ormat's EIR on Casa Diablo IV Geothermal Project. In a brief press release issued Wednesday morning, the Water District said the two sides have agreed to enter into formal negotiations "seeking to resolve MCWD concerns regarding the company's proposed geothermal expansion project."
The Water District says the goal of the new negotiations is to develop a mutually acceptable monitoring and mitigation program that "will protect the community's water supply during the Project's operation."
While the lawsuit against APCD is still pending, it is presumed that if the Water District and Ormat can reach some kind of monitoring and mitigation program, the suit will go away. Even so, APCD Director Ted Schade has said he will not issue well permits to Ormat unless they come up with a monitoring program.
Early on, Water District officials expressed fears that Ormat's plans to drill in deep aquifers would cause contamination in shallow aquifers from which the town water supply is drawn.
Water District General Manager Patrick Hayes said the whole burden of bad outcomes sat at the feet of the Water District. Now, with the new announcement of formal talks, both parties will engage their experts in the negotiations and "expect to make substantive progress towards their mutual goal within the next 60 days."