Mammoth's Town Manager made an interesting and somewhat mysterious statement during budget talks at last week's Town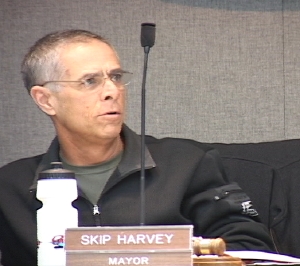 Council meeting. She told the audience and Council that someone from Mammoth Lakes Land Acquisition, to whom the $40 million lawsuit judgments owed, had asked her to make a statement. She said only, "They are concerned about baseline budget decisions through June."
Do they want money set aside? What does MLLA want out of the Town's budget deliberations? We talked to Mammoth Mayor Skip Harvey about the statement. Harvey has attended most, if not all, settlement meetings with MLLA principals in Santa Monica. Harvey said, "Whenever you're in settlement negotiations, the side entitled to money is concerned about how the other side handles its assets before an agreement is reached. They were putting us on notice," said Harvey.
The Town Council must legally proceed with next fiscal year's budget, regardless of MLLA. The Council has not addressed any money for the company that holds the lawsuit debt from the Hot Creek dispute. Mammoth owes that company something like $40 million of the court judgment, interest, and attorneys' fees.
Town Manager Marianna Marysheva-Martinez said that the situation between Mammoth and MLLA is a "collaborative process. We are approaching the settlement process as partners. It's only natural that we would work together. When members make decisions, it's natural to be concerned. Martinez had earlier said that the talks between the two sides have not even reached real negotiations. She said Mammoth is sharing financial information. Mayor Harvey said both sides are trying to understand government financing which is different from private operations.
Harvey and Marysheva-Martinez planned to attend another meeting with MLLA in Santa Monica Monday.