Another chance to vote. More chances to vote by mail. On May 19th, California voters will have a say over budgeting, funding for education, children's services, mental health funds, lottery and legislators' pay raises.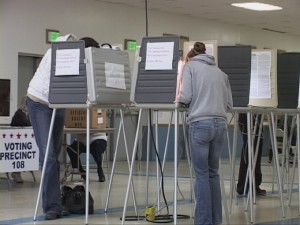 In Inyo County, the elections department said that as many precincts as possible were converted to Vote by Mail for this special election. Ballots will be mailed out starting April 20th. Voters must sign the return envelope of their ballots to have them counted. Return by election night before 8pm. All Inyo precincts but three are mail ballots. Not Meadowcreek, West Bishop or Knight Manor.
In Mono County, if you want to vote by mail, you must request an absentee ballot. You can do that in writing starting April 20th. You can fax your request to the Mono County Clerk at 932-5531. Questions? Call 932-5537.
Mono County also needs help on election day. Poll workers are needed in the Mammoth Lakes area. Any registered voter can serve. The Elections' Department would need you ffrom 6:30am to 8:30pm election day, May 19th. Poll workers will be paid $8.50 per hour. Call 932-5537. They really need your help.
Once again, the issues on the May 19th Special Election ballot – a rainy day fund for the California budget, education funding, the ability to borrow on future lottery funds, children's services funding, mental health funding and voter ability to deny pay raises to legislators during a budget deficit.