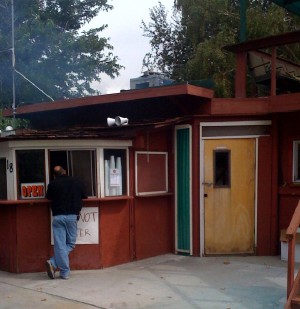 Some of our listeners asked that I do a food review of a new, small outdoor eatery in Bishop called the Burger Barn. So I headed over to taste some of their specialties. I spoke to Shelly at the front window and let them know I was here to sample their best. She informed me that they specialize in fresh, home-cut fries, hamburgers and veggie burgers and homemade apple pie. If you wish, thick, rich milkshakes are also available.
The Burger Barn has only been open for one week and I was impressed with the efficient service. I ordered a cheese burger and fries with apple pie for desert. The cheese burger had a sesame seed bun and contained a nice thick quarter pound of meat. The meat was topped with romaine lettuce, 2 slices of purple onion, 2 slices of beefsteak tomato, a slice of cheese with Thousand Island dressing. This burger had that great home grilled taste just like the ones dad would make. The fries were lightly salted, crisp but not too crisp, with a wonderful rich potato flavor. And the apple pie had a rich, flakey and buttery crust, with freshly cooked apples that were not too tart or too sweet.
Overall, I would rate the Burger Barn 4 out 5 stars for an outdoor / take-out eatery. You can find it on West Line Street, just to the west of Barlow Lane. And tell them Dennis from the Sierra Wave sent you.