Well I'm off again in search of great food here in the Eastern Sierra. Our listeners have asked me to take a look at Fireside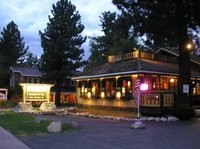 Burgers and Tap in Mammoth Lakes. Among the things they offer are all Angus Beef pounders, pounders, Ahi Steak Burgers, Turkey Burgers, and Veggie Burgers. They have sandwiches as well; examples are Pastrami. If you include a salad like roasted chicken or pear & Walnut, you've got a great choice for lunch. Add Roasted Chicken, Pork Back Ribs or trout and dinner is covered too. All of their offerings are Homemade. They offer good things to drink like malts and shakes and did I mention beer? Yes, they have Mammoth Brewing, Floating Rock Hefenweizen and Fat Tire on tap with some nice wines too.
So, I meet Josh and Doug, co- managers, and I said, "Give me your best tasting sampler." So we started off with homemade mushroom soup with zucchini, which had light broth and chunks of chicken. Next a certified Angus beef burger and a seared Ahi tuna steak burger. Both burgers had a great Kaiser- like bun, lettuce, purple onion, tomatoes, cheddar cheese and pickles. The beef burger had a Thousand Island-like dressing and the Ahi burger had a wasabi / mayonnaise dressing. Both were rich and flavorful. This was followed by some of the best home fries I've ever had. Garlic / Parmesan cheese fries which were perfectly cooked, crisp on the outside and tender and moist on the inside. Next came some very thinly sliced homemade potatoes chips. Yummy, Yummy. The eating sampler continued with homemade potato salad and coleslaw. They offered me their "signature" pastrami sandwich. Layers and layers of thinly sliced meat (cooked in its own juices) with balanced flavors which were not greasy or fatty. Delicious. Finally, I had the baby back ribs with a wonderful sauce, not over the top, so you could taste the tender pork. All these dishes were very flavorful and balanced. This Family style restaurant offers a whole lot more than burgers with a little bit for everybody for lunch or dinner. It has high quality food with very reasonable prices, NOT an easy find. This is a real "Go To it" place, and gets my well above average, rating of 4 stars out of 5.
Fireside Burgers and Tap is located at 343 Old Mammoth Road, just down the street from Grumpy's. Business hours are 11:30 am to 9:00 pm daily. And tell them Dennis Mattinson sent you.