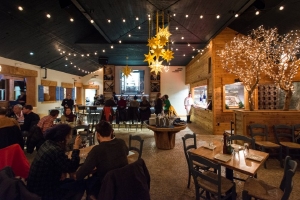 Review of Jimmy's Taverna
By Dennis Mattinson
It's not every day that a new restaurant opens up here in the Eastern Sierra, let alone one serving fresh Greek specialties and seafood.  Along with this there is an impressive wine list. So I thought I would mosey over and try it on for size. Jimmy's Taverna in Mammoth Lakes is the third and newest restaurant in the Sierra Nevada Resort, completing the restaurant trilogy of Rafters Restaurant and the Red Lantern.
Upon entering the restaurant I got a very open feeling with large bay windows overlooking Mammoth Mountain.  Gold strung ceiling lights gave a festive look.  The open kitchen had a large, white oak burning grill and the bar had a thick imported marble wrap-around counter.  Back of the bar was an amazing wine dispensing system where you can enjoy a glass of wine from a pre-opened bottle, without fear of the wine being oxidized.
I started with a cocktail called the Moscow Mule (No. 1 seller at the bar) which is Tito's vodka, ginger beer, bitters and lime.  Slightly dry, light with a refreshing citrus quality.  With this I had their dips of humus, olive blend and pita. The pita was made fresh and made on the wood burning grill and the olive blend was rich with a real spicy nuance.  Next came the Taverna meatballs with tomato sauce and olives.  The meatballs were very light and spicy to go with the homemade tomato sauce.  Delicious!
I continued with mussels, Ouzo tomato broth and grilled pita. The cooked mussels were, oh so sweet and plump, light and spicy.  Very fresh!  The pita was light, airy with a touch of smoke and salt.  The main course was Sea Bream (a Mediterranean fish of great delicacy).  It was served whole and cooked to perfection on that great white oak grill.  The fish was light, delicate and creamy with a hint of smoke.
I had two Greek wines with the fish, the first was a white wine made from the Assyrtiko grape ( A seer' tee ko);  sublime, rich, elegant with medium weight and a long finish of minerals and citrus.  The second, a red wine was from the Xinomavro grape (Ksee no' ma vro).  This wine's aroma just exploded from the glass, with exotic fruit, gooseberry, hints of olives and dried tomatoes.   I finished with a great cup of coffee and Baklava, phyllo filled with cream custard, assorted nuts, honey, citrus syrup and homemade vanilla bean ice cream and homemade yogurt!
For your dining pleasure, the Taverna also serves lamb shank, lamb chops, N.Y strip steak, Rib Eye steak, Filet mignon and Organic Chicken.
I found the food to be excellent, the freshest possible and the wine to be a perfect match for the food.  If you are looking for an intimate place to eat, something really special, I highly recommend Jimmy's Taverna.   I am told that they are booked almost every evening, so advance reservations would be helpful.
Jimmy's Taverna
PHONE: (760) 934-9432
Address: 248 Old Mammoth Rd
Mammoth Lakes, CA 93546
Open every day from 5pm to 9pm