Matthew Duane Hanson was born on May 29,2003 in Reno Nevada and entered into Eternal life on November 22,2014 in Bishop, California. Matthew was a vibrant young man with an amazing outlook on life.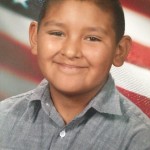 Matthew was always willing to give a helping hand to anyone in need and loved to make other people smile with his imaginative stories. Matthew's favorite sport was Hockey and he couldn't wait for fall to come so he could hit the rink, and see all of his hockey friends.  Matthew loved to be outside riding his bike and scooter; he loved to go to the skate park with his dad. Matthew loved the outdoors exploring, fishing with his Kuno, camping with his aunts or just spending time with his family.
Matthew was a 6th grader and he loved school and his favorite subject was Math. Matthew was loved by many and touched everyone that he met with his special zest for life.
Matthew is survived by his Father Ivan Hanson of Bishop, Mother Barbara Lopez of Colorado.  Grandparents Delvin and Phyllis Kane of Bishop, Joann Hanson of Yerington, NV, Chuck and Mona Wheeler of Big Pine and Gordon and Rita Giradin of Idaho.  Aunt/Mommas  Cindy Kane and Shea Vick of Bishop, Aunt and Uncle Loren and Shawna Kane of Bishop, Aunt Crystal Andreas of Bishop, Renee Rogers and Steve and Jennifer Ackley of Yerington NV. Great Aunt Gayle Johnson and husband Fred of Yerington, NV.  Great Uncles Mike and Walter Hanson of Lone Pine. Cousins Phillips and wife Sabrina and son Lodin, and Alyssa Kane and Chris Riggins, Donald Andreas all of Bishop and Jordan, Jacob, Darren and Tawanee Ackley all of Yerington NV. As well as many other family and friends.
In lieu of flowers donations can be made to the Sierra Hockey League. A cry dance will be on Friday night starting at 8pm at 60 North Barlow lane. Services will be held for Matthew at the Sierra Roller Hockey Rink in the Charles Brown Auditorium on Saturday November 29th at 11:00am.Enterment will be at the East line street cemetery, a potluck reception will follow at Barlow Lane Gym, Bishop.