Press release
Matt Kingsley, Continuing to deliver Common Sense Leadership for the 5th District.
I am seeking a second term representing Inyo County's 5th District. I feel honored and humbled by the support and engagement by the citizens of Inyo County and the 5th District in particular.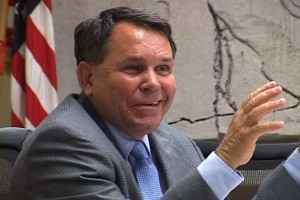 The complexity and diversity of issues that face us are challenging. With your help, I am fulfilling promises I made in my campaign four years ago: "I will provide fresh and innovative leadership approaches by building strong relationships with constituents, stakeholders and peers to enable the Board of Supervisors to work productively." I have the enthusiasm, energy, and commitment to continue representing all of Inyo County and the citizens of the many small communities that make up the 5th District.
The 5th District needs a leader who has the experience, knowledge and common sense to engage the issues confidently and transparently. My leadership skills, extensive experience, and connection with the 5th District will allow me to continue serving effectively as your representative to the Board of Supervisors. With your support, I look forward to serving you for four more years.
I'm an actively involved, 38-year Lone Pine resident. I have raised a family, worked, and been enthusiastically engaged in both public and private enterprises in the 5th District. Prior to my election in 2012, I was Fire Chief of the Federal Wildland Fire agencies which provided me with the skills to manage a ten million dollar annual budget and oversee 130 employees. When I retired in 2007 I then worked 5 years as the office manager for U.S. Borax in Lone Pine.
Approachability and collaborative problem solving allowed me to be effective on the Lone Pine School Board, where I served for 4 years including 2 years as president. I have also served on the Lone Pine Fire Safe Council as the chairman, where I collaborated with local ranchers, LADWP, Inyo County Water Department, CAL Fire, the Paiute Shoshone Indian Tribe, and federal agencies.
Among my other accomplishments: 20 years of coaching basketball at Lone Pine High School, 18 years as a Lone Pine Fire Commissioner, and leadership roles in both the Lone Pine Chamber of Commerce and the Lone Pine Lions Club.
My long standing as a resident and public servant gives me a deep appreciation of the needs and concerns of residents and businesses and the role governmental agencies should play in support of our citizens and the many small communities that make up the 5th District.
I am lucky to have the friendships and opportunities this area has afforded my family and me.