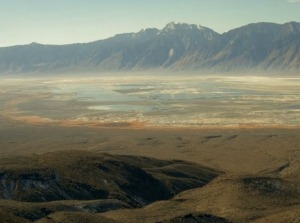 More than 40 people from many agencies, environmental groups and the Los Angeles Department of Water and Power recently met in Bishop at the new Tallman Pavillion. The group is the Owens Lake Master Plan Committee. At that meeting, LADWP released what many perceived as an ultimatum that looked like a back-door effort to erode support for dry lake dust clean-up and gain more water export to Los Angeles.
DWP Water Operations head, Marty Adams, handed out two pages adopted by the LA Water and Power Commissioners. The document listed seven items that LA said it "must have" to commit to an Owens Lake Master Plan. The list says LA wants a 50% cut in use of water on the dry lake bed, a limit on the dust control area, approval of waterless dust control and use of groundwater from under the dry lake bed.
Mark Bagley of the Sierra Club and Owens Valley Committee pointed out that all those issues fall under the control of the Great Basin Unified Air Polution Control District  or Inyo County and not the Owens Lake Master Plan group. Bagley went further to say his group does not support limiting the area of dust clean-up. Bagley's groups and several others do want to maintain bird habitat created at the lake from use of water to keep down dust.
LA said very little about birds and mostly everything about more water down the aqueduct. Bagley said DWP's wishes can not be at the expense of "dust control and maintenance of habitat values." The issue of using groundwater under the lake is mired in an environmental process with Inyo County and also can not be decided by the planning group.
Local environmentalist, Daniel Pritchett, wrote in a letter to the editor that LA wants at least 47,500 acre feet more water to flow down the aqueduct plus shrinkage of dust control areas. Then, there is DWP's lawsuit against the EPA, State Air Board, State Lands Commission and APCD to try to stop cleaning up the dry lake.
Pritchett said of DWP's points at the Bishop meeting, "This is a back door way of forcing Planning Committee members to accept DWP's legal position in its outrageous lawsuit against APCD and Ted Schade." Pritchett advocated withdrawal from any negotiations until the lawsuit is over.  Others privately agreed.
Ted Schade, a member of the planning group, said, "I think we need an Owens Lake Master Plan at some point, but what DWP presented is difficult for people to accept. I hope DWP was presenting this not as a 'must-have' but like to have."
George Milovich, retired Agricultural Commissioner, said if DWP would cut back on water at the Owens Lake, they should leave some in the Owens Valley. He said DWP has reduced water to ranchers by 20,000 to 30,000 acre feet. DWP's Brian Tillemans insisted ranchers get what their leases require. What he didn't say is that DWP used to give the ranches, for decades, much more than the lease amount. Now, they don't. Milovich said the Owens Valley needs to be viewed as a whole and not in separate parts.
Many agreed it is difficult to have a frank discussion about Owens Lake with DWP's lawsuit hanging over the issue. As one meeting attendee said privately of the negotiations, "No one will leave the table. The table will just disappear."