The Master Gardeners of Inyo & Mono Counties are proud to present the 2014 calendar: A Year in Eastern Sierra Plein Air Paintings.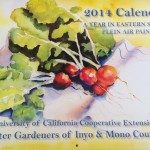 The calendar features local gardening tips, with each month accompanied by a painting by the Eastern Sierra Plein Air painters, a group that meets weekly to paint en plein air (in the open air) throughout the region.
The calendar features work by 16 artists, average freeze dates, and tips on how to garden in the low desert, high desert, and high mountains. Proceeds from calendar sales support the Master Gardeners' free workshops and community education throughout the Eastern Sierra.
Calendars are on sale at the Master Gardener office for $10 each (includes sales tax). Please call the University of California Cooperative Extension office at (760) 873-7854 to find out more or to place an order.
Calendars are also available at select local retailers. Prices may vary.