Thursday afternoon water, mud and debris rushed down a canyon in the Sierra over Highway 395 in the Dunmovin' area south of Olancha. A big rig was washed off the highway. 395 remained closed as Caltrans organized a major clean-up effort. Susan Lent, Caltrans PIO, said that hard closures were set northbound at Coso Rest Area and southbound at Olancha. Closures were also enforced on Highway 190 due to a road wash-out east of Panamint Springs to two miles west of Panamint Springs. Caltrans reported Friday morning that traffic was being escorted through in both directions and that Highway 190 had been opened.
Thursday, traffic was backed up in both directions on 395. In late afternoon, there was no estimate of when the highway would re-open or if a detour would be available. Caltrans Director Tom Hallenbeck said that it was estimated that a four-foot wall of mud and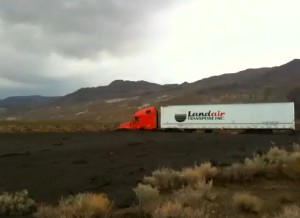 debris 200 yards wide had washed onto the highway.
Reports continued to come in that a heavy flow of water relentlessly flowed down from a canyon area in the Sierra. Caltrans and others continued the tough job to try to clear all the debris. Again, traffic was being escorted through in both directions.