Mary Elizabeth Allard peacefully entered her heavenly home during her afternoon nap on February 20, 2019. Eleven days before, she celebrated her 95th birthday with all her children, grandchildren and great grandchildren, the loves of her life.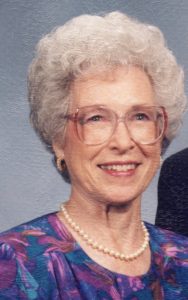 Mary was born at home on February 4, 1924 in Tulsa, Oklahoma to Jesse and Cleo Jones during a blinding snowstorm. Her family eventually migrated to Bell, California where she met and married Charles Maxwell Allard on April 11, 1942. She lost her beloved father suddenly the year before. After graduating from Bell High School and while courting Max she attended business college and worked in a telegraph office as a bookkeeper. Max built their home in Downey, California after coming home from his WWII duty in Hawaii while serving in the Coast Guard. They had 4 children, Russell, Jerry, Dennis and Nancy. When her youngest turned 2 years old she returned to working outside the home at Downey High School, first working in the attendance office and then becoming student body bookkeeper and Assistant to the Activities Director.
When most women were working in the home, Mary was working hard as a homemaker as well as in her career as a bookkeeper. She worked closely with the Student Council and they loved to hang out with her in her office during their breaks and honored her at the end of every school year. She loved her beloved Vikings. She retired in 1983. She was a meticulous record keeper until recently. She was also an accomplished seamstress, able to sew the latest fashions by drawing pictures of garments in the stores and developing her own patterns. She also was a musician, playing the violin and later trombone while growing up. She always held first chair in any band she played in. She marched in the first junior high honor band that played at an event at the Los Angeles Coliseum.
Mary and Max celebrated their 50th Anniversary in 1992 with extended family and friends at the church that they attended during all their years in Downey, the First Baptist Church of Downey. She lovingly cared for Max during a prolonged illness until he passed away on January 30, 1994. Two years later she moved to Bishop to be closer to family after living in her Downey home for almost 50 years. In June 2016 she moved to Sterling Heights where she was lovingly cared for by the excellent and caring staff.
Mary endured the passing of all three of her younger siblings as well as two of her sons, Russell and Dennis. Mary is survived by son Jerry (Wynn-Ellen) Allard of La Habra, California, daughter Nancy (Gene) Coufal of Bishop; grandchildren Erin (Chris) Gewain of Tustin, California, Nathan Allard of La Habra, Emily (Derrick) Johnson of Mammoth Lakes, Elizabeth Coufal of Buena Park, California, Chas Coufal (Amy) of Bishop; great grandchildren Maxwell Osendorf, Kyla, Wesley, Lily Johnson, and Abigail and Zachary Gewain.
Mary is praising her Savior as a redeemed sinner saved by grace. A memorial service will be held on March 10, 2019 at 10:45am at Grace Lutheran Church. The interment will be on March 15, 2019 at Rose Hills Memorial Park in Whittier, California.