Martha Frey (Garman) Brubaker was born on October 26, 1932. She was the youngest of eight born to Frank and Katie Garman. Martha was raised on a farm in Lancaster County, PA.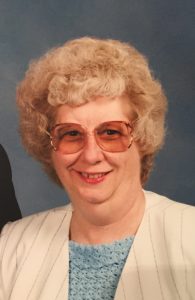 She learned canning and freezing food at a early age as well as gardening. First grade was in a one-room schoolhouse and 2nd – 8th grades were in a two-room schoolhouse. It was an adjustment for her going into a high school in 1950.  After graduation, Martha immediately begun working doing secretarial work and did so until she retired at age 62.  Martha attended a Mennonite Church in PA where her father was pastor. At age 17 she accepted Jesus Christ as her personal Savior.
Martha moved to Upland, California in 1971.  She along with a girlfriend drove herself across country pulling a U-Haul trailer. She was a member of the 7th Street Mennonite Church in Upland, CA. She married Wilmer R. Brubaker on November 16, 1973; they were married for 34 1/2 years upon the death of Wilmer on 6-1-08.
Martha and Wilmer moved to Owens Valley in 1983 and then to Bishop 1986. They were members of Bishop Nazarene Church.  Martha worked for an insurance agency before moving to the Owens Valley and then was employed by the Inyo Register until her retirement in 1985.
Martha loved reading, embroidery, and tending her flowers. She was known for making the best potato buns, date pinwheel cookies and shoofly pies.
Martha and Wilmer had many travels including a trip to Central American on their honeymoon, plus a trip thru Europe a few years later.  Wilmer taught Martha to appreciate the desert and they took many four-wheeled trips (camping) exploring different areas in and around California and Nevada.
Martha is survived by six step children Cynthia Chahal (Suji) of Corona Del Mar, CA., Elwood Brubaker of Quartz Hill, CA., Gaylord Brubaker (Shirley) of Tehachapi, CA., Nanci Bell (Dave) of Colorado Springs, CO., Joyce Barg (David) of Los Alamitos, CA., and Mervin Brubaker (Kristy) of Auburn, WY; twelve grandchildren;  Eighteen great- grandchildren;  two great, great grandchildren; a sister, Kathryn Humbert of Coloumbia, PA, and many loving nieces and nephews.
Martha was preceded in death by her husband, her parents, and sisters; Ruth Landis, Esther Huber, Mary Lockard, and brothers; Roy Garman, Frank Garman and Richard Garman.
Her children and grandchildren gave her special joy and nothing pleased her more than family visits. She also enjoyed visits from out of state friends and also friends from Southern California.  Martha and Will had made many friends in their church, the Bishop area – which they treasured greatly.
The Brubaker family desires its gratitude to be conveyed to the many people who have helped with our mom's care and expressed sympathy and shown their concern in a variety of ways.
A funeral service will be held 11:00 AM, Tuesday September 20, 2016 at Church of the Nazarene 900 West Line St. Bishop, California, followed by interment in East Line Street Cemetery.