Inyo County press release
Independence – The Inyo County Board of Supervisors announced that Marshall Rudolph will be appointed as Inyo County Counsel upon the retirement of the current County Counsel, Marge Kemp-Williams.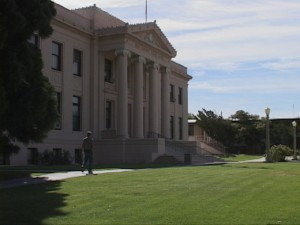 The decision to appoint Mr. Rudolph was made today by a unanimous vote of the Board of Supervisors, with all members present. The Board will act upon a standard County personnel services contract, in open session, to finalize Mr. Rudolph's appointment.
Mr. Rudolph currently works for Mono County where he has served as County Counsel for the past 19 years. He is the longest tenured County Counsel in the State of California. Prior to coming to Mono County in 1996, Mr. Rudolph worked for Best Best & Krieger. He earned his juris doctorate at Hastings College of Law, and completed his under-graduate work at Stanford University. He lives in Crowley.
"The County of Inyo, and the people we serve are extremely fortunate to have Marshall joining our team," said Fifth District Supervisor and Chairman of the Board, Matt Kingsley. "There are very few public attorneys of his caliber or competence out there, and his decision to come to Inyo speaks volumes about the quality and attractiveness of the organization we are building."
Sharing his reaction to the Board's decision, Mr. Rudolph said, "I am flattered by Inyo County's interest in appointing me, and am excited by the opportunity it presents at this point in my career."
Inyo's current County Counsel, Marge Kemp-Williams, announced last month that she will retire as Inyo County Counsel on December 30th. Soon after, the County began working to find a qualified person or firm with expertise in public sector executive recruitment to assist the Board of Supervisors in identifying and recruiting quality candidates for consideration as the County's next County Counsel.
In addition to bolstering the County Counsel's Office for years to come, the decision to hire Mr. Rudolph will eliminate the need to undertake this time-consuming and costly process. Such recruitments can cost in the neighborhood of $30,000 and take many months to complete.