Marilyn Elizabeth Leavitt
Died at her home in Bishop, CA on February 25th, 2015 following a brief illness.  Born in Osceola, NE on February 21st, 1924 to Esther and Coleman Brown.  She attended Osceola High School and following graduation worked briefly in Denver, CO.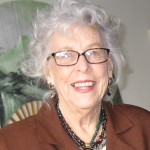 Marilyn moved further west to California, living and working in Culver City before eventually settling in Woodland Hills, CA where she and her husband Don raised their children and created strong bonds with other young families in the brand new suburb.
Upon retirement she and Don moved to their favorite vacation spot and Bishop Creek became their permanent home.  While in Bishop Marilyn and Don became members of Our Savior Lutheran Church and were instrumental in the church's growth and renovation.
Through her incredible natural hospitality and outgoing personality, Marilyn again developed great friendships.   She and Don celebrated their 50th wedding anniversary with family and friends at Bishop Creek Lodge.
Following her husband's death Marilyn moved into town and continued to welcome neighbors, friends and family into her home on a daily basis for lively conversation and fellowship.  In February 2014, Marilyn was feted at her 90th birthday party by over 60 close friends and family members who were delighted to help her celebrate the important milestone.
Marilyn was preceded in death by her husband Donald A. Leavitt, cousin Dorothy Deland and son Randy W. Nicklaus.  She is survived by daughters Rayne Cumberworth of Burbank, CA and Megan (Bill) Kleinschmidt, of Palmdale, CA, son Ward (Kathy) Leavitt, of Galt, CA, daughter-in-law Laure Dunham (Nicklaus), 5 grandchildren, and 3 great-grandchildren, .  Of course, she will also be missed by many, many friends.
Services will be held on Saturday, March 7th at 11 am at Our Savior Lutheran Church, 162 Sneden Street, Bishop, CA  93514.
In lieu of flowers donations may be made in Marilyn's name to Our Savior Lutheran Church.