MARILYN EDITH (SWIGGART) KELLEY
Marilyn was born in Montebello, CA on October 3, 1930, and passed peacefully surrounded by family on August 25, 2016, in Bishop, CA.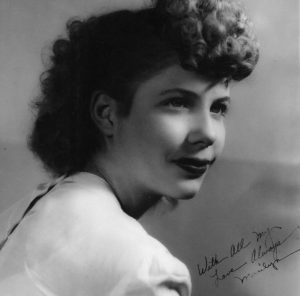 In 1948, Marilyn married Lowell (Gus) Goss and together they had three children; Valerie, Mike, and Kevin. In 1959, Marilyn and Gus moved from Southern California to the Owens Valley where they partnered with her parents in owning the Aberdeen Resort. After several years, Marilyn and Gus loaded up their family and made the trek to Big Pine, where Marilyn was involved in the community and often seen spending her time to support local organizations including Little League. She had a desire to share her knowledge and talents with others and found a perfect fit within 4-H. As a 4-H leader, she taught cooking and sewing for several years. Marilyn's talents were not limited to sewing and cooking, she had a knack for numbers which allowed her to work as an accountant, a career that she loved. She was also a very talented painter, though her modesty often kept her from sharing her work with more than just family and friends.
She later married James Kelley and had one daughter, Roseann. Together they operated the Western Auto Store in Bishop. Her love of painting would drive her to open Marilyn's Tole Painting which quickly became a popular spot for ladies to paint, exchange recipes and just be girls.
While she was an expert seamstress, gourmet cook, and talented artist, her passion was gardening. You could always find her out in her yard tending to her various plants while taking in the beauty of nature and the area that she loved so dearly.
To the surprise of many, Marilyn was also an avid NASCAR fan, keeping up with the news on all of the drivers, owners, and races. Marilyn wasn't one who was ever afraid to try something new, so in her 80s she taught herself how to use the internet. There wasn't a day that went by where she wasn't online. She loved to keep in touch with family and friends, searching for new recipes, or just following up on NASCAR news.
Marilyn is survived by her children Valerie Huarte and son-in-law Leonard Huarte of Bishop, Roseann Kelley of Big Pine, Michael Goss of Sparks, NV and Kevin Goss of Fish Lake Valley, NV. She is also survived by her brother Ralph "Corky" McClane and his wife Cheryl. Marilyn was "Mema" to 4 grandchildren, 6 great-grandchildren. She also leaves behind Stan Steele who Marilyn treated as son of her own, niece, nephews, and friends.
In lieu of flowers, please make any donations to the Big Pine Fire Dept.