FOREST MARIJUANA CULTIVATION SUPPLIER PLEADS GUILTY  (press release Department of Justice)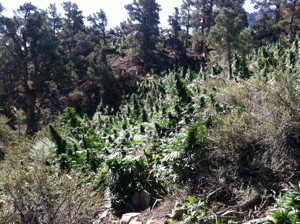 FRESNO, Calif. — Javier Rios Morales, 25, of Jalisco, Mexico, pleaded guilty today to
conspiring to manufacture, distribute and possess with intent to distribute 3,405 marijuana
plants and 350 pounds of processed marijuana seized from a grow site in Inyo National
Forest, announced United States Attorney Benjamin B. Wagner.
According to court documents, U.S. Forest Service agents found a marijuana
cultivation operation in the Hogback Creek area of the Inyo National Forest. They set up
trail cameras and photographed Rios making supply drops at a drop point to the site. Rios
also picked up processed marijuana from the site. One of the load vehicles was tracked to
several stash houses in Riverside County. Ultimately, agents executed four search warrants
at the grow site and three residences in Riverside County.
Agents seized 3,405 marijuana plants, 350 pounds of processed marijuana, digital
scales, highly toxic and illegal rodenticides, and 2,200 pounds of trash from the Hogback
Creek grow site. In pleading guilty, Rios agreed to pay $6,572.14 to the U.S. Forest Service
for removal and dumping fees associated with eradication of the site. Agents in Riverside
County seized two pounds of methamphetamine, a methamphetamine laboratory, five
firearms, $10,000 in cash, and two pounds of marijuana from a residence in Moreno Valley.
Agents seized another 450 marijuana plants and marijuana cultivation at a stash house in
Homeland. At another stash house in Romoland, they seized a firearm, marijuana shake and
residue, and shipping labels consistent with the shipment of marijuana to Chicago.
Rios is scheduled for sentencing on April 14, 2014, by United States District Judge
Lawrence J. O'Neill. He faces a sentence of five years to 40 years in prison and a $5 million
fine. He is also subject to deportation to Mexico, upon completion of any prison term. The
actual sentence, however, will be determined at the discretion of the court after
consideration of any applicable statutory factors and the Federal Sentencing Guidelines,
which take into account a number of variables.
This case was the product of an investigation by the U.S. Forest Service, the U.S.
Drug Enforcement Administration, the U.S. Immigration and Customs Enforcement's (ICE)
Homeland Security Investigations (HSI), Inyo County Sheriff's Office, and Riverside County
Sheriff's Office. Assistant United States Attorney Karen A. Escob