While the situation surrounding medical marijuana appears to be relaxing, it is still possible to be arrested for marijuana related crimes here in the Eastern Sierra.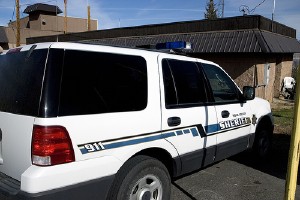 The State of California may be moving toward full legalization of marijuana if a proposition makes the ballot in November, and Mammoth Lakes residents may choose to allow medical marijuana co-ops in June, but even with the lax laws that are currently on the books, Mono Narcotic Agents still plan to target illegal sales of marijuana.
On January 28th, Mono Narcotic Officers arrested a Mammoth resident who possessed a medical marijuana recommendation for sales and growing marijuana in his bedroom.
After an investigation that stretched over three months, officers served two search warrants in two separate homes in Mammoth. In one of the homes, officer say they found a bedroom that had been converted to a hydroponic grow room containing 40 mature marijuana plants. Agents also say they seized just less than one pound of dried marijuana and $900 in currency.
Despite having a medical marijuana recommendation, officers arrested 20-year-old Andrew Ayala for multiple counts of marijuana sales, and cultivation. During the second search warrant, 19-year-old Mammoth resident Fernando Leo was arrested for sales of marijuana, according to officers.
With laws that make it relatively easy to get a medical marijuana recommendation, MONET agents say that they do target people who misuse the medical marijuana defense in order to profit from the illegal cultivation and sales of marijuana.
Officers say that the Mammoth Fire Department and building inspector were called in as well, due to the modified, unsafe, out of code electrical work and mold spores growing on the walls and floor throughout the room. This type of hazard is common with indoor grows, officers say, adding that these homes, are typically rentals in which the property owner must pay thousands of dollars in clean up. The second home raided last week has been found to be uninhabitable and was sealed for no entry, according to officers.