Mono County District Attorney's Office press release
On June 1, 2015 the Mono County DA's Office conducted flight operations in accordance with the Drug Enforcement Administration's marijuana eradication program.  The purpose of the program is to locate large scale outdoor marijuana grows on public lands within Mono County.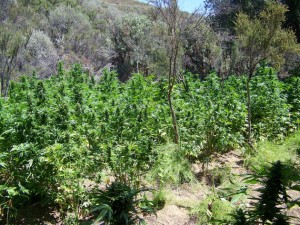 These flight operations resulted in the detection of several marijuana grows in rugged and remote locations in the southern Mono County area. The grow sites were very large in size and ran up to approximately seven miles in length.
As a result the Mono County DA's Office, with the assistance of the Forest Service, initiated a two month investigation.  The investigation was also aided with the assistance of the Inyo County District Attorney's Office and the Inyo County Sheriff's Department since some of the marijuana grows crossed over into Inyo County.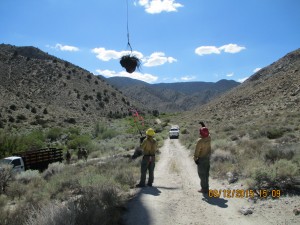 During the investigation, it was determined that the largest grow, which was located in Mono County, was typical of grows commonly operated by Mexican Drug Trade Organizations. Along with those characteristics, several Hispanic males were identified and were seen tending to the garden armed with rifles.
On August 11, 2015 Investigators with the Mono District Attorney's Office, assisted by Inyo County District Attorney's Office, Forrest Service, Bureau of Land Management, National Guard and the Inyo County Sheriff's Department, conducted a raid operation to arrest and detain any gardeners found in the site.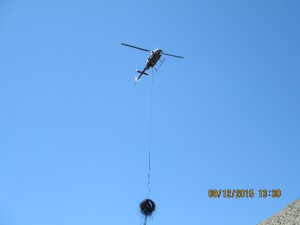 Due to unknown reasons, it was determined that the persons responsible for tending to the garden had fled, leaving the garden unattended.  The heavy late July rains appeared to have damaged the marijuana plants within the garden and therefore that is suspected to be the reason that the garden was abandoned.
During eradication and reclamation efforts approximately 40,000 marijuana plants with a conservative street value of well over $2 million dollars were located and destroyed from this site.
During reclamation efforts a total of 4,401 pounds of trash was removed. Some of that consisted of 10.82 miles of irrigation hose and 550 pounds of fertilizer.  Numerous other illegal and highly toxic pesticides were found being used in the garden and Hazmat crews later responded to recovered and removed those pesticides.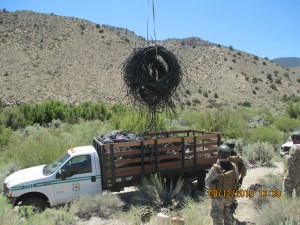 Large scale marijuana gardens on public lands creates a danger to the public and to our recreational users of these lands.  Unfortunately, hunters, hikers and others that come across these types of gardens and the individuals who attend these gardens put themselves in great danger.
Along with the public danger there are also serious environmental impacts that these marijuana gardens create.  If you ever encounter a marijuana garden you should quickly and quietly remove yourself from the area.  Do not continue on your path and do not make contact with anyone in the area.  Immediately call the Mono County District Attorney or any other law enforcement agency as soon as you possibly can.