The numbers are in after reefer raids in the Eastern Sierra eradicated marijuana plants growing in local canyons.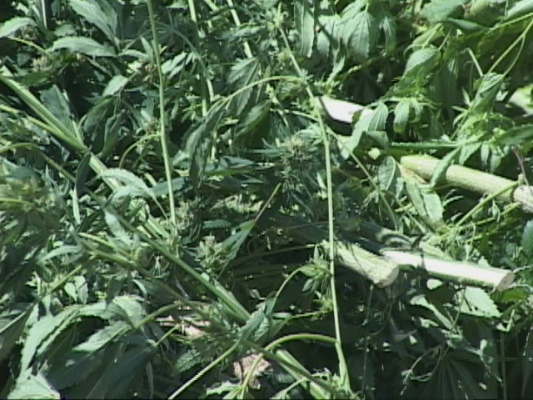 Between the Haiwee Canyon site, Georges Creek, Thibaut Creek, and Crooked Creek in the White Mountains, Inyo Sheriff Bill Lutze reports that officers tore up and destroyed 14,405 plants in two days of work.
Being late in the season, some of the crop had already been harvested at the Crooked Creek site, raided Thursday. 3600 other plants were eradicated. Some of the plants at the Thibaut site were said to be 15-18 feet high.
Over 4000 plants came out of Haiwee Canyon which were trucked off for destruction. These plants were close to being harvested as well and were between eight and ten feet high. Officers reported evidence that there were ten people camped at Haiwee, who had run off before officers arrived at the farm.
Georges Creek had been abandoned some time before the officers arrived on Wednesday. No arrests were made at any of the sites.
Law enforcement officers say that these large outdoor grows are typically the work of drug trafficking organizations from Mexico. A CAMP officer that we spoke to explained that the money from the marijuana is often used to fund the cartels other operations like methamphetamine and human trafficking.
What effect the raids have on the illicit marijuana industry is unclear. Despite the fact that the four million plants destroyed statewide so far this year is a record for eradication, the CAMP officer that we spoke to said that there never seems to be a shortage on the street. He estimates that law enforcement seizes roughly half the crop each year, but that number is not certain. The officer added that some marijuana farmers can get two crops a year, or top the plants and let the buds flower a second time.
Either way, the officer called marijuana the largest cash crop, in the state adding that along with the money, comes violence. Farmers are often armed to slow down law enforcement if the camp is raided, but also to protect the plants from what the officer called, pot pirates, who may try to steal the valuable product.
Despite the convoluted laws for medical marijuana and the growing grumbles to legalize and tax this product, these large farms do have negative impacts on our lands. On these outdoor grows on public lands, the farmers impact the land by diverting water, adding fertilizer, dumping trash, clearing vegetation, and even poaching game while they are camped out for months on end.
The Forest Service is set to go in to some of these sites to clean up the mess in coming weeks.