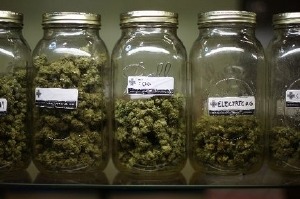 In the wake of federal prosecutors threatening to seize property leased to medical marijuana dispensaries in California, the owner of at least one Mammoth Lakes dispensary says there is a "very good possibility" he will close.
Steve Klassen, medical marijuana advocate and owner of the dispensary called Green Mammoth, confirmed on Sunday that there is a very good possibility he will close his dispensary on November 19th, the last of the 45 day federal notice to comply with demands, he said.  Klassen said he will release more information later. Klassen did add that he feels he has a right to heal himself however he sees fit and "should have access to that medicine."
Pressed for further details, Klassen said that federal prosecutors have interpreted the law to make his business illegal.  "I'll release a statement in the near future," he said.  Sierra Wave has placed a call to the second dispensary, Mammoth Lakes Wellness.  We await the owner's latest response.
In 1996, California voted to legalize medical marijuana, and Mammoth Lakes voters cast their ballots in favor of Measure M last year to allow dispensaries in town.  In spite of local and state positions, the federal government has decided to play hardball since possession and distribution of marijuana is still a federal crime.
California Attorney General Kamala Harris has been quoted as saying that federal prosecutors should not overreach their crackdown on pot dispensaries.  She said that this could get in the way of legitimate patients.  Harris did say the feds should focus on "significant traffickers of illegal drugs."
In early October, federal prosecutors did send notices to dispensary landlords that their property would be subject to federal seizure if they continue to provide space to a dispensary in 45 days.  Prosecutors have also been quoted as saying they want to stop the sale, distribution and cultivation of marijuana in California. Many others have said that the Obama Administration has now gone back on its word not to raid medical marijuana dispensers and caregivers.