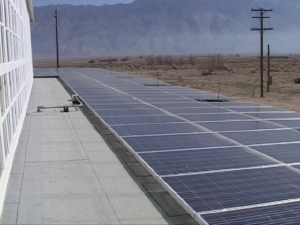 On the south roof of the Manzanar Historic Site sits a 30 kilowatt solar system all ready to go, but the Park Service can't plug it in because a metering agreement with DWP remains up in the air.
Historic Site Superintendent Les Inafuku said that when he came to Manzanar he put in a request for a photovoltaic solar project. "With all the sun, it's the perfect place," he said. "And, it's a way we can save money." Two months later, the project was selected to go ahead with federal stimulus money. Since the south wing of the interpretive center was re-constructed and not historic, the panels would go there.
Crews completed the project in September of 2010. They turned it on and it worked beautifully. Then, they shut it down to work out the agreement to connect to DWP's power grid. Inafuku said the historic site stands to save 30% on its $26,000 annual electric bill.
Now it's March of 2011. What's the hang up? Inafuku said that DWP wants an insurance clause, and the National Park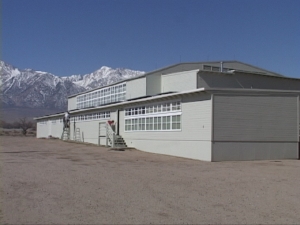 Service doesn't want to pay it. The insurance would cover DWP if the Manzanar solar project caused a major problem. Inafuku said DWP wants the insurance in case "the electrical connections went wacky and we blew out the DWP electrical system." Inafuku sees that as unlikely since solar engineers designed the system and a reputable contractor built it.
If DWP doesn't agree, will they have to remove the solar panels? Inafuku said that's one potential. "It's not determined yet," he said. "We are still hopeful."
We placed a call to DWP headquarters in Los Angeles and await a comment on the status of the solar project.