Press release
Shizuko Okazaki's parents put her and her sister to bed in their Manzanar barracks the night of September 24, 1942. The next morning, the girls awoke to find their mother dead and their father taking his last breaths. Fred Okazaki had murdered his wife Frances, and then committed suicide. Horrified neighbors whisked Shizuko and her sister out of the apartment. The girls spent three years in Manzanar's Children's Village orphanage. After the war, they went to live with family in Eastern Washington.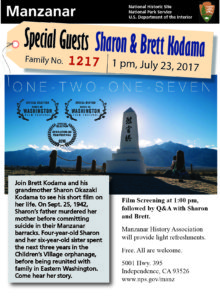 Today, Shizuko is known as Sharon Kodama. Her grandson, filmmaker Brett Ryoji Kodama, made the film One-Two-One-Seven:  A Story of Japanese Internment to tell her story. The film's title comes from the identification number on the tags the Okazaki family wore to Manzanar.
Brett Kodama will screen his award-winning short film in the West Theater of the Manzanar National Historic Site Visitor Center on Sunday, July 23 at 1:00 p.m.Sharon will join her grandson for the screening and share her recollections. She is also featured in the current art show at Manzanar, Looking Back, Seeing Ahead.
The program is free and open to the public. Manzanar History Association will provide light refreshments. The Manzanar Visitor Center is open 9:00 a.m. to 4:30 p.m. daily. It features extensive permanent exhibits and a 22-minute introductory film,Remembering Manzanar. Nearby, a World War II-era mess hall and two reconstructed barracks interpret the challenges of daily life. An auto tour road circles the site, highlighting Japanese gardens, historic orchards, the cemetery, and more.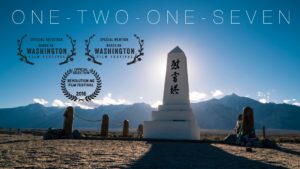 Manzanar is located at 5001 Hwy. 395, six miles south of Independence, California.Admission is free. For more information, please call 760-878-2194 ext. 3310 or visit our website at www.nps.gov/manz or Facebook page at www.facebook.com/ManzanarNationalHistoricSite.