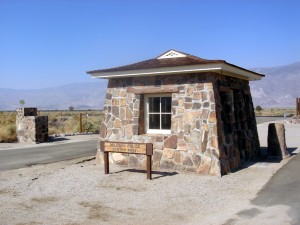 On Saturday, February 22 at 1pm, Manzanar is hosting Special Guest Author Kinju
Inomata.
In 1942, when the US Government forcibly removed and incarcerated more than
110,00 Japanese Americans in Manzanar and nine other camps, it granted the
Inomata family an exemption to remain in Los Angeles.
Kinji Inomata wrote about his family's experience in Pure Winds, Bright Moon,
The untold story of the stately steward and his Hapa Family Beautiful.
Inomata will give a talk on "Taming Prejudice and Defeating Executive Order 9066
and will share the improbable stories behind his family's exemption, as well as
their unique experiences before, during and after the war. He will also perform
some Polynesian songs.
The Manzanar National Historic Site is located off State Highway 395 about 8
miles south of Independence. For more information or directions, please call 760-
878-2194 extension 3310 or visit the website at www.nps/manz.