Press release
The Southern Mono Historical Society (SMHS) would like to thank all who helped make our 2nd Annual Jazz by the Creek fundraiser event a HUGE success.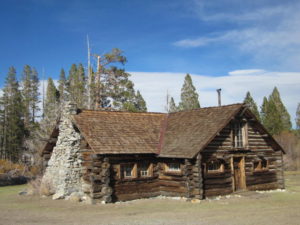 Most especially our headliner Tom Rigney and Flambeau who were a favorite band at the past Mammoth Lakes Jazz Jubilee and who brought down the tent with their fabulous music on Sunday, 7/9/17.
Another past Jazz Jubilee favorite who gracefully accepted our offer to play at the event this year was the Yve Evans Trio and they were fantastic! We'd also like to thank Joe Gray, Jr., Marty Burgenbaugh and Billy Simms for their wonderful music along with guest musicians Robert Joki and Mike "Hurricane" Hoover.
SAVE THE DATE: 7/8/18 for jazz to return to the Hayden Cabin next year!
We would like to acknowledge and thank the following partners: USFS, Town of Mammoth Lakes, Sierra Nevada Resort, Edelweiss Lodge, Shilo Inn, J Lohr Winery and Wine Warehouse, MnM Event Rentals, Brian Knowles of Eastern Sierra Audio, John Kovatch and Michelle Goulet of Mammoth Catering and Events, Marci and Chuck Satterfield of Wilderness Catering, Steve Shatkin of Mammoth Coffee Roasting Co., Sue Ebersold of Sue's Cakes, Snowcreek Golf Course (golf carts), Mono County Tourism, The Sheet News, KMMT-KRHV, Sierra Wave Media, KIBS-KBOV, Channel 12-Dan McConnell, Blogging Bishop, Mammoth Lakes Chamber of Commerce and Mammoth Lakes Tourism, the many businesses who allowed us to place our poster in your windows, all of our wonderful volunteers and docents, and the tireless efforts of our Board members and spouses. Apologies if we neglected to list anyone.
The Mammoth Museum at the Hayden Cabin at 5489 Sherwin Creek Road is open daily from 10:00 a.m. to 6:00 p.m. through September. Admission is free, but a $5.00 donation per person is greatly appreciated along with sponsorships and memberships. The SMHS is a 501(c)3 not-for-profit organization.
Thank you again!
Directors of the Southern Mono Historical Society
MUSEUM CONTACT INFO: (760) 934-6918 www.mammothmuseum.org [email protected]
Facebook: www.facebook.com/www.mammothmuseum.org