Press release
Benefit Dinner and Paddle Raise
Saturday, August 12 from 5 – 8pm
Parallax Restaurant at Mammoth Mountain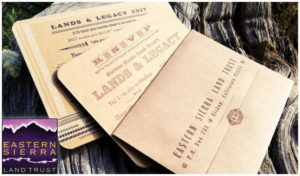 Hosted by Mammoth Mountain, our annual "Party of the Year" will take place in view of the High Sierra at their stunning Parallax Restaurant. Grab a gondola seat and meet us there! You'll enjoy a fine dinner (see the menu here), open bar, and plenty of time to meet and mingle with friends.
The evening will also feature our signature Paddle Raise: a way for you to champion causes that have a major impact on the future of our region. With donation opportunities ranging from $5,000 to $50, the Paddle Raise will give you the chance to lift your paddle high and support the conservation projects that you care about most.
Go to eslt.org to purchase your tickets online the our Lands & Legacy Celebration or call call us at (760) 873-4554.
Guided Land Tours
During our Lands & Legacy Weekend, all dinner guests are invited to join us for one of two guided land tours to special places that are conserved forever thanks to you. When reserving your tickets, please select one of our two Lands & Legacy tours:
Green Creek Powerhouse Preserve Tour
Friday, August 11 from 1 – 4:30pm
Meet at Mono Lake Park to depart by 1pm
As you explore our Green Creek Powerhouse Preserve, learn about the property's fascinating history from historian Dale Johnson.
This Preserve was the location of one of the earliest hydroelectric powerhouses in the American West, which provided electricity to the Standard Mill at Bodie from 1893-1923. Hear stories from Dale, who has made a hobby of researching all the hydroelectric powerhouses in the west, especially in California.
Benton Hot Springs Ranch Tour
Sunday, August 13 from 8am – 12pm
Meet at The Green Church to depart by 8am
At our conservation easement at Benton Hot Springs Ranch, you'll get a behind-the-scenes look at one of our ongoing habitat restoration projects.
For several years, we have partnered with the U.S. Fish and Wildlife Service to create a home for the rare Owens speckled dace at the Benton Ponds. You'll get an up-close view of this project as we tour this beautiful wetland. You'll also hear from landowner Bill Bramlette about the Ranch's history and his work to preserve the historic town of Benton.
Become a Lands & Legacy Sponsor
As a Lands & Legacy sponsor, your tax-deductible gift will help conserve more of the places you love – plus, it provides a great opportunity for you to connect with other Eastern Sierra residents and visitors. By showing your support of local conservation, you will generate goodwill while enhancing the environment where you work and play.
Go to elst.org to learn more about sponsorship benefits and to become a sponsor today.
This year's Lands & Legacy promises to be a fun-filled weekend. We are all looking forward to celebrating our conservation successes with you and visiting some of the special places you've helped protect forever.
Tickets usually sell out quickly, so we recommend reserving yours today!