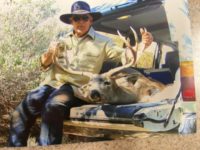 Revised by family: April 22, 2022
Manuel Castro passed away peacefully surrounded
by his loving family at Northern Inyo Hospital on April 15,
2022.
Manuel was born on December 8, 1936 to Dolores and Jesus Castro. He was the youngest son to a large family. As a young adult he became the protector of his family.
Manual grew up in the Owens Valley where he spent his youth hunting and fishing with his father and passed down his knowledge to his wife and daughters, son-in-laws, nieces and nephews.
He graduated from Lone Pine High School in 1956 and then began working for PP&G as a plant oiler. Manuel began working for the Dolomite mine in 1961 where he started as laborer and then as the superintendent up until the time of his death.
Manuel was passionate about hunting and fishing. He spent many years as a guide at the Lone Pine Pheasant Club and was known for having "the best damned hunting dog that the pheasant club ever saw."
His true passion was his wife Linda and his family. He worked hard and sacrificed much to provide for his family. Dad was our rock and our hero. He taught us that family came first. He had the best sense of humor and a quick wit. He never failed to make us laugh. He was a kind and loving man always ready to lend a hand to someone in need.
Manuel was preceded in death by his parents Jesus and Dolores, sisters Geneva, Ruby, Mercy, Carmen, and brothers David and Tony.
Manuel is survived by the love of his life of 61 years Linda; daughters Lola (Andy) Marsh, Tina (Chris) Yocum, Dorie Perez, Crystal (Rick) Berrios; grandchildren Andy Jr., Austin and Angelina Marsh; Ian, Ryan and Sierra Redfox; Joseph and Manuel Ruiz; Isabella, August, Bianca, and Caprice Berrios; many great-grandchildren; sister Rosa Roarke and many special nieces and nephews.
Please forgive us if we have left anyone out; we have a big family and Manuel is well
loved by so many.
Dad, you will be deeply missed and our hearts are heavy without you. We are so lucky to be able to call you husband, father, grandpa, uncle, and friend. We are thankful to have had this time on earth with you.
The family would like to thank the staff of Northern Inyo Hospital for their kindness and the care that was given to Manuel. A special thank you to Steffany McMurtie for showing so much care and compassion to both Manuel and Linda.
To My Sweet Honey Man – I am one of the lucky few to have shared a lifetime of happiness and love for over 60 years. You are my heart. Until we meet again, Linda ❤.
GONE FISHING
If someone should ask for me,
tell 'em heaven is where I'll be.
I've finished all my life's chores,
and now I fish on heaven's shores.
The view is grand and the fishing's great,
but I yearn for you as I wait.
I'll save a spot on the river's bend,
for all those I call family and friend.
But for now, head to the Manistee
and make a cast in memory,
to all the good times that you had,
with me- your husband, your friend, your grandpa…your dad.
And if the fish no longer bite
or seem no longer worth the fight,
'cause it's me that you are missin',
don't worry – be happy – I've gone fishin'.
Services were held April 23, 2022 at Santa Rosa Catholic Church in Lone Pine, CA.
Pallbearers: Rick Berrios, Chris Yocum, Andy Marsh, Andy Marsh, Jr., Manuel Ruiz, August Berrios, Austin Marsh, Dean Chave
Honorary Pallbearers: Dan Hardwick, Ian Redfox, Ryan Redfox, Joseph Ruiz