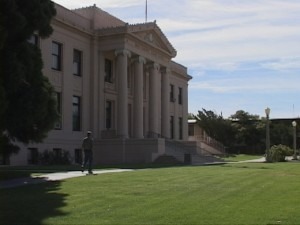 Inyo District Attorney Art Maillet has issue three very brief press releases on three cases. They deal with murder, vehicular manslaughter and assault.
About a year ago, Sheriff's Officers reported that Daniel Barlow, 40, of Bishop was found unconscious on Winuba Lane. Symons Ambulance and others worked to get him to Northern Inyo Hospital where Barlow was pronounced dead.
Shortly after that, deputies arrested Harlan Dewey, Jr. on suspicion of homicide. DA Maillet's press release says that Dewey entered a no-contest plea to felony involuntary manslaughter in Daniel Barlow's death. The press release says only that in December of last year Harlan Dewey was "involved in a physical altercation with Daniel Barlow which resulted in the death of Mr. Barlow." Dewey will appear for sentencing January 11th.
In another case, the DA says Jose Thomas Figueroa entered a no-contest plea to gross vehicular manslaughter while intoxicated. The DA said that Figueroa also admitted two prior offenses of driving under the influence of alcohol.
According to the DA's press release, the incident in this case occurred on August 11, 2012, when the vehicle in which Figueroa was driving was involved in a single vehicle roll-over accident on Bartel Avenue in an unincorporated area of Inyo County. The DA said, "As a result of this accident, Thunder Medina was seriously injured and later succumbed to his injuries."
Figueroa will be sentenced January 11th, according to the DA, to ten years in prison.
In a third case, DA Art Maillet said an Inyo County Jury found Josephine Lijek guilty of several misdemeanors. He said Lijek was found guilty of three counts of assault with a deadly weapon, two counts of brandishing a deadly weapon in a rude, angry and threatening manner and two counts of disturbing the peace. She will be sentenced January 24th.