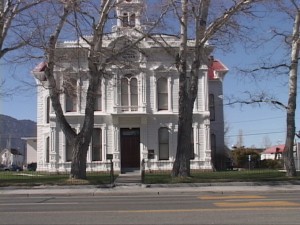 60 year-old Dick Luman of Mono County worked for 15 years as a mechanic for the Mono County Public Works Department.  He was fired in October and said that a Mono County Department head physically assaulted him at work.  Luman claims the County wants to cover up what happened.  He has appealed his termination and a hearing will take place Wednesday and Thursday at the courthouse in Bridgeport with a televised version in Mammoth Lakes.
Luman told Sierra Wave that he and others had dealt with a troublesome Road Operations Supervisor who he said was "very aggressive, bullying and created a hostile work place."  Luman said at a meeting of workers on this issue, the supervisor "walked in, screamed and attacked me."  He said the fight resulted in fractured ribs and surgery for him.  Luman said Mono County fired him and the road supervisor.
Luman said, "Retaliation, intimidation and bullying is not the way to run a county."  We called attorney John Vallejo in the Mono County Counsel's office for the County's side of the issue.  He said this is a personnel matter and he could not comment.
Luman's attorney, Katie Bellomo, of Mono City, said that upper management failed to deal with a hostile environment.  When it all erupted, she said, they tried to cover it up by firing her client.  Now, Bellomo said, they're trying to blame the victim.  Bellomo also said that there was one witness who gave a clear statement that Dick Luman was assaulted and was not the aggressor. Bellomo said, "Now, that employee has been disciplined and put on suspension."  That employee has also gone to appeal.
Bellomo pointed to the fact that County Administrator Jim Arkens wears the hats of CAO, Human Resources Director and Public Works Director which she sees as "an unhealthy situation making it difficult for employees to feel they have recourse."
The Luman appeal hearing happens Wednesday and Thursday  from 9am to 5pm at the Bridgeport Supervisors Chambers which will be televised in the Sierra Center Mall third floor board room. Bellomo encouraged citizens to attend the appeal hearings. She said, "It's an opportunity for the public to gain insight into Mono County's upper management attitude toward employees.  It's management through intimidation."