Earlier this summer, Sergio Madrigal of Mammoth Lakes reportedly left a three-year-old boy alone in a running car while he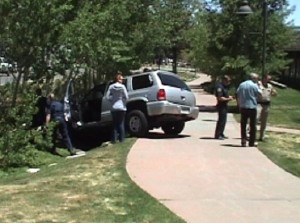 went to the bank. The child managed to move the car and Madrigal faced charges.
Recently, Madrigal appeared in court to enter guilty pleas to the charges of driving without a license and failure to use a child restraint. Originally he additionally faced child endangerment charges. The 23-year-old Madrigal was sentenced to pay a fine.
In June, Mammoth Police reported that Madrigal had driven to Bank of America, parked his car in the parking lot and left it running with the child inside. Police said a witness saw the child turn the steering wheel and move the car forward.
The vehicle rolled forward out of the parking lot and over a railroad tie, 39 feet into the median just off Main St. No one was hurt.