Man Convicted of 2009 Forest Fire from Rex Emerson
(via http://www.recorderonline.com/articles/set-57226-forest-area.html )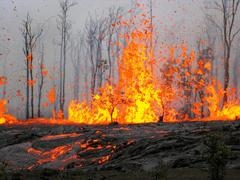 Ernesto Sanchez, 24, of Los Angeles was found guilty in a jury trial Thursday for recklessly causing a fire in Sequoia National Forest in the Kernville area, near the bank of the Kern River on June 27, 2009.
Several individuals were camping in that area, and while there, another group of people set up camp next to their site. Sanchez was a part of this second group.
Witnesses testified at trial that during the evening hours, Sanchez began to set off fireworks. The summer temperature at the time was hovering near the 90 degree mark and the grass area was brown and dry. A sign was posted clearly warning visiting campers of the risk of forest fires.
After the defendant set off the first firework, several campers yelled at him to stop. The defendant laughed and said "I saved the best one for last" and proceeded to set off a second firework, which sailed over the Kern River into adjacent land. This device subsequently caused a fire which engulfed approximately 200 acres of forest land, with damages in excess of $460,000.
The conviction came after a three-day trial in Tulare County Superior Court Department 12, with Judge Brett Alldredge presiding.
Sanchez will be sentenced on Nov. 7, and he could face up to three years in prison for his crime.
Special Agent Daniel Briot of the United States Forest Service investigated the case, and Deputy District Attorney Kien Le prosecuted.