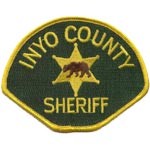 Friday night in the frigid cold and dark, a 19-year-old man fell through the ice on a pond near Black Rock Fish Hatchery just north of Independence. Firefighters and others came to his rescue. The stranded man was reportedly only wearing his underwear.
The report went in to the Inyo Sheriff's Department that the man had fallen through the ice and then swam to a kind of island in the middle of the pond. Someone with the man who fell through called 911. The Independence Volunteer Fire Department responded, so did the volunteer ambulance. Officials called for a boat to rescue the by now freezing man who was wearing nothing but his underwear, according to scanner traffic.
Search and Rescue was called out as volunteers tried to quickly find a boat. Sources said someone from Bishop was trying to bring one down or possibly the Fish Hatchery provided a row boat.
The man was retrieved from the island and Search and Rescue personnel were reportedly called off. The victim was stabilized by the ambulance crew. We hope to have more information this week.