Mammoth Lakes Police Department officers had a lengthy foot pursuit on Monday afternoon before arresting a 21-year-old man from Texas.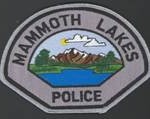 A press release from the MLPD states that Monday at about 3:40 p.m., Mammoth Lakes Police Officer Doug Hornbeck while on
routine patrol stopped to contact a white male adult who was panhandling near the Laurel Mountain Blvd entrance to the Gateway Mall.
Beginning with a consensual encounter, the Officer Hornbeck conducted a 'Field Interview' in an effort to identify and learn more
about the subject. The subject gave Officer Hornbeck different names and began acting suspiciously.
Officer Hornbeck observed a knife on the subject's belt and began to frisk the subject to secure that knife and to check for other
weapons to protect both himself and the public. The subject suddenly pulled away and ran, with Officer Hornbeck giving chase and he immediately let other officers know he was in foot pursuit.
MLPD Officers as well as MCSO Undersheriff Moriarty chased the subject for approximately 15 minutes, through the Shady Rest
Tract forest, to Manzanita, around several apartment and condo buildings near Sierra Nevada and Chaparral, through backyards
north of Sierra Nevada Rd eventually taking him into custody behind the Arrowhead Apartments at the Corner of Arrowhead and
Sierra Nevada.
Several citizens along the way pointed officers in the direction he had fled, which greatly assisted officers staying on the trail of the
subject. The suspect, eventually identified as Cody Alan Terrell, age 22, from Irving, Texas also got to meet the new police chief, Al
Davis, as it was Chief Davis who ultimately caught and handcuffed him.
Terrell was charged with Resisting, delaying or obstructing police officers and giving false information to police officers. Terrell gave
no explanation as to why he ran from Officer Hornbeck.
The press release continues that at the same time this incident was occurring, the Mono County dispatcher received a call regarding
a subject who was deceased. Mammoth PD officers were still chasing Terrell, so Mammoth Fire and Mono County Paramedics
responded to Sierra Manors Condos and confirmed that the subject was deceased.
For some of the officers from the Mono County Sheriff's Department and CHP who were responding from out of the area to back-up Mammoth PD, and for some listening on scanners, there was initial confusion that the two incidents were related, however they were not. The death appeared to be from natural causes, but is pending the Mono County Coroner's report.
The Mammoth Lakes Police Department would like to remind the public that per the California Vehicle Code, you must pull to the right
for Emergency Vehicles displaying red lights and siren.
Responding officers encountered several cars that complied with this law, however there were several motorists that maintained driving in the number one lane and some actually pulled to the left. This is
extremely unsafe and against the law. Emergency Personal responding with lights and sirens cannot legally pass a car on the right.
The MLPD, MCSO and FIRE/EMS personnel ask for the public's cooperation in this very important requirement. This will allow
emergency personnel to respond quicker to emergency situations as well as keep motorists safe.