BPD press release
Last night at about 8:30 PM, a BPD Sergeant on patrol noticed an agitated male in front of businesses on the 100 block of S. Main St. Upon contacting the man, the Sergeant recognized him as Benjamin Bloom. While investigating further, the Sergeant determined Bloom was under the influence of a stimulant-type drug.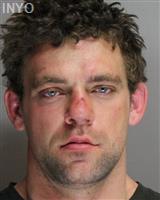 Bloom sensing an arrest challenged the Officers and began fighting with them. During the intense struggle, the suspect attempted several times to remove the Officer's gun from its holster. The Sergeant and the Officer sustained damaged equipment and a minor injury.
27-year-old Bloom was taken to the hospital for medical clearance and then booked into the Inyo County Jail on the following charges:
69(a) PC (Felony): Threats or violence to deter police from performing official duty; resisting by force or violence
148(d) PC (Felony): Resisting, attempt to take firearm from Peace Officer
243(b) PC (Misd.): Battery on a Peace Officer
Anyone having witnessed Bloom's conduct or this event, please contact the Bishop Police Department at (760) 873-5866.